(2016 Update: New Link)
Some beginner scripts for use in Apple's Script Editor. If you're just starting AppleScript, try figuring out what these scripts do and how they do it, then try running them to see if you were correct.
TextEdit Word Count
TextEdit Character Count
If you have the Script Menu activated, you can access these scripts directly from TextEdit. Here's how. Open the above scripts in Script Editor, and save them to this folder (Your home folder will be different, of course):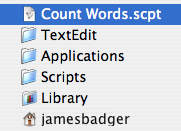 If one or more of these folders don't already exist, you can create them with the Finder, or from within the Save Dialog Box in Script Editor.
Internet Beat Time
iTunes Selection Enumerator